New features, improvements and fixes
New features
Process Mining, discover your processes (Enterprise plans)
Modeler 3.9 comes with an amazing new feature: Process mining.
This family of techniques is essential for the process modelling of a company as it empowers users with useful insights, based on the company's day-to-day activities (event logs).
Bizagi Modeler's Process Mining is focused on the discovery of processes, allowing the creation of precise process models that reflect the reality of the corporate processes.

Improvements
Desktop Application Look & Feel improvements
The Bizagi Modeler desktop application interface has been updated to achieve a new appearance that is aligned with the company new brand.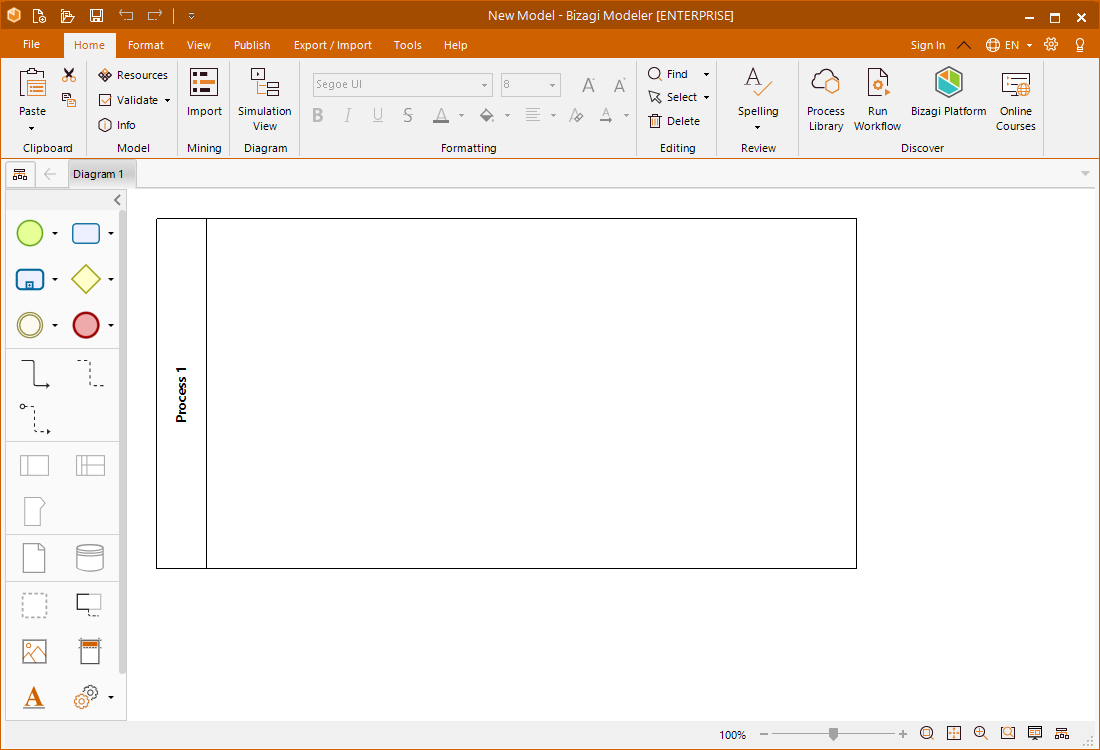 Fixes
On some models the quality of an exported image was low. This has been fixed.
The artifact menu on the process editor was not shown completely. Now a new scroll allows all elements to be seen.
When moving Lanes on a diagram, and then saving it, the changes were lost.
When publishing to the web, special characters were not recognized.
When publishing to Excel, Extended attributes defined at diagram level were not included. Only pool, lane, and element attributes were exported.
Customized logos were not shown when changing the zoom in web outputs.
When having an element with a spelling error, and then validating, the tool was not located on the element that had the error but remained on the active diagram.
When importing a model into another existing model where both have equal Table type extended attributes, there was a problem displaying the content.
We added a configuration to include big files in models.
The Check-out button was not working correctly after a user recently Checked-in a diagram.
We changed the way files are loaded for simulation to avoid errors with BPMN.